Secure Maximum Returns through our Authentic Ayurveda PCD Franchise in Chandigarh!
Are you planning to start a business in the Ayurvedic Sector? Then your search ends here. Blessings Ayurveda is the Best Ayurvedic PCD Franchise Company to offer the best business opportunities. Today we are presenting the business opportunity of Ayurvedic PCD Company in Chandigarh for enhancing the healthcare sector. Blessings Ayurveda is known as the most progressive pharmaceutical company in India. We are the ISO, GMP certified company. We are engaging in to enhance human lives. Our product quality made us the primary choice of many customers. Our huge supply chain is spread all over in India.
Blessings Ayurveda is the most trusted and Top Ayurvedic PCD Company in Chandigarh. We provide excellent healthcare products which are formulated by 100% pure herbal extracts in-house. We are providing business opportunities for creating a developed and secured future.
Demand for an Ayurvedic PCD Company in Chandigarh
Chandigarh is man-made beautiful green city located in the northern region in India. It is the capital of two states Haryana & Punjab. Consequently, Chandigarh is also known as ''Tricity'' and ''The city of beauty''. It has the most serene green surroundings.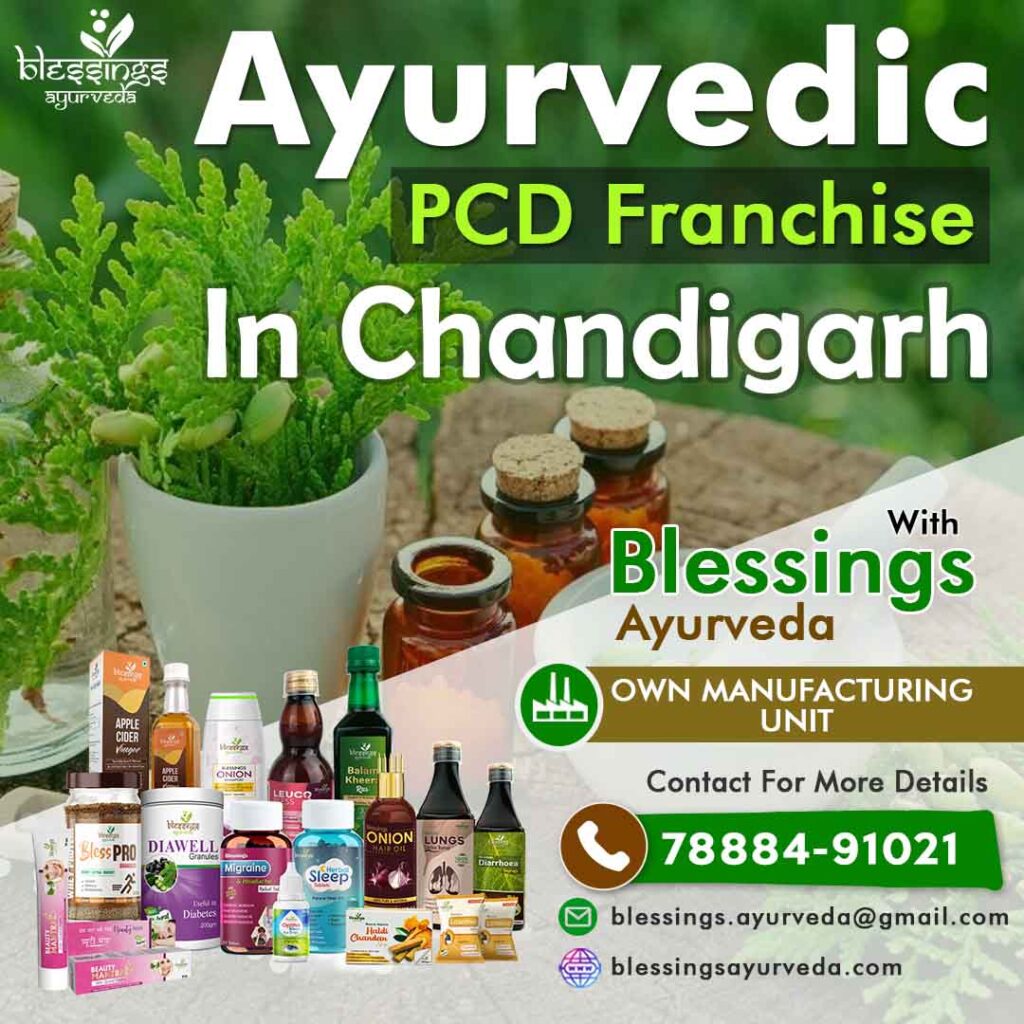 This city provides the best healthcare services. When we think about Best Ayurvedic PCD Pharma Franchise in Chandigarh, Blessings Ayurveda is the best choice for every Individual pharma business owner. This company offers utmost prime healthcare products. If you are fascinated by owning this business for a bright future, then we have the best deals for you.
Our Ayurvedic Franchise in Chandigarh ensures to present a top variety different Ayurvedic medicines that are 100% pure and harmless. Moreover, our company also aims to deliver the best healthcare services for improving the health of people's lives.
Perks of investing in Ayurvedic PCD Franchise Company
Blessings Ayurveda is and ISO certified Ayurvedic Franchise Company in India. We are engaged in this Industry in India since last 6 years. Our company holds great experience in manufacturing qualitative herbal medicines. On the whole you can say that we are a company that can help you in earning high desired profits. Plus, our Herbal Third Party Manufacturing Company is good enough to provide you products on time.
Advantages of choosing us for Ayurvedic Franchise in Chandigarh
Blessings Ayurveda is a leading ayurvedic medicine company; we strongly value the need of better and developed healthcare services. We had set an aim to offer the finest and secured business deals through which you can gaze forward to create a bright future. Let's see all the benefits provided by our Ayurvedic PCD Pharma Franchise Company.
• High development opportunities
• High Profit earnings
• Serving better herbal care products
• Newest modern marketing strategies for expansion
• Staying dedicated to diverse marketing trends
• Gaining the trust of client by selling them best quality efficient medicines at affordable rates
• Connecting with a healthcare expert
• Low Investments for launching Franchise in Chandigarh
• Monopoly Rights
• Timely Delivery.
Our Secrets to Success:
• Building long-term & trustable business partnerships.
• Innovative formulations
• customer satisfaction and excellent service is our primary concern
• Analyzing the current market needs
• Developing formulations tailored to meet patient needs.
Premium Quality Products for Ayurvedic PCD Pharma Franchise in Chandigarh
Below listed are few qualitative products of Blessings Ayurveda. All the products are manufactured under Who & GMP guidelines.
• Syrups
• Ayurvedic cough syrup
• Liver tonic
• Blood purifier
• Stone syrup
• Uterine Tonic
• Constipation syrup
• Platelets booster syrup
• Multivitamin Syrup
• Diabetes syrup
• Iron syrup and many more syrups.
• Capsules & Tablets
• Migraine kit
• Sleep tablets
• Lactation capsules
• Diarrhoea Capsules
• Uric acid and Derma capsules
• Vigour and Vitality capsules
• Gynae ayurvedic capsules
• Stone capsules
• Piles capsules and many more.
These are few listed products which are available in our ayurvedic division. Beside these we have number of other products also. To get the full details you can query us on below given details.
Get in Touch with Us!
Feel free to reach out to us for any kind of assistance. We look forward to doing business with you.
Name: Blessings Ayurveda
Address: Plot No-159, Industrial Area Phase 2, Panchkula, Haryana (134113)
Contact Person: Atin Arora (Director)
Phone or WhasApp: +917888491021
Email: blessings.ayurveda@gmail.com